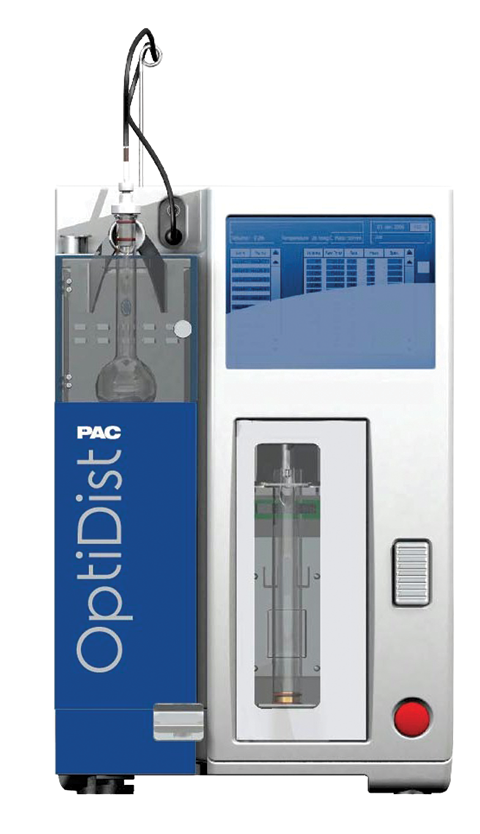 State-of-the-Art Solution for Performing Atmospheric Distillation
Thousands of users worldwide trust OptiDist™ for its state-of-the-art solution for performing atmospheric distillation, offering the most precision and ease-of-use.
The versatile design enables multi-methods and non-standard capabilities, which can easily be adapted for different applications. The testing and results are in full compliance with all atmospheric distillation methods.
With OptiDist, you can optimize your distillation rate. The patented optimizer performs continuous monitoring and controls the initial heat by a proprietary algorithm without requiring any input from the operator. The optimizer function also improves the distillation rate by avoiding surges or reductions. This predictive control results in better distillations, even for difficult or unknown samples.
Top Reasons to Choose
OptiDist
Easy-to-Use, One Button Straightforward Operation
Superior Precision from First Run
Fully Automated Regulation
Advanced Built-In Safety Features
Competitor Analysis Comparison Chart
Scroll right to view
Feature
OptiDist
Competitor
Optimizer Technology
Built-in patented optimizer function contributes to a trouble-free operation requiring less operator expertise
—
Heating/Cooling Control System
Unique Optimizer function can fully automate the initial heat settings and heating regulation; detectors for heater plate, vapor probe and centering device
Automatic initial heater settings and heater regulation - Cooling fan to quickly reach safe handling temperature after test

Liquid-free Peltier technology used for heating and cooling
Group 1 and Group 2 Sample Performance
Runs group 1 and group 2 samples with automated steps that saves the user's precious time and shortens total time from setup to finish
Full ASTM sample preparation procedures must be adhered to which increases time to get results
User Interface/Display
Large graphic TFT-LCD color touch-screen with solvent-proof protection
10" TFT color touchscreen, solvent-proof
System Calibration
Intelligent Vapor Probe memorizes calibration data and does not require manual adjustment in the flask neck
Time Consuming and Cumbersome Calibration Process
Liquid in Glass Probe
Liquid in glass probe has stable, transferable calibration information and more resistant to corrosive samples
Metal Probe
Optical Level Followers
Optical measuring system compatible with samples producing smoke in the receiver; range 0 to 103% charge volume; resolution: 0.03ml, accuracy: ± 0.1ml
Camera that requires adjustment
Glassware
OptiDist glassware fits every OptiDist model and is readily available
Competitor's glassware will only fit competitor's instrument. None are compatible with the OptiDist.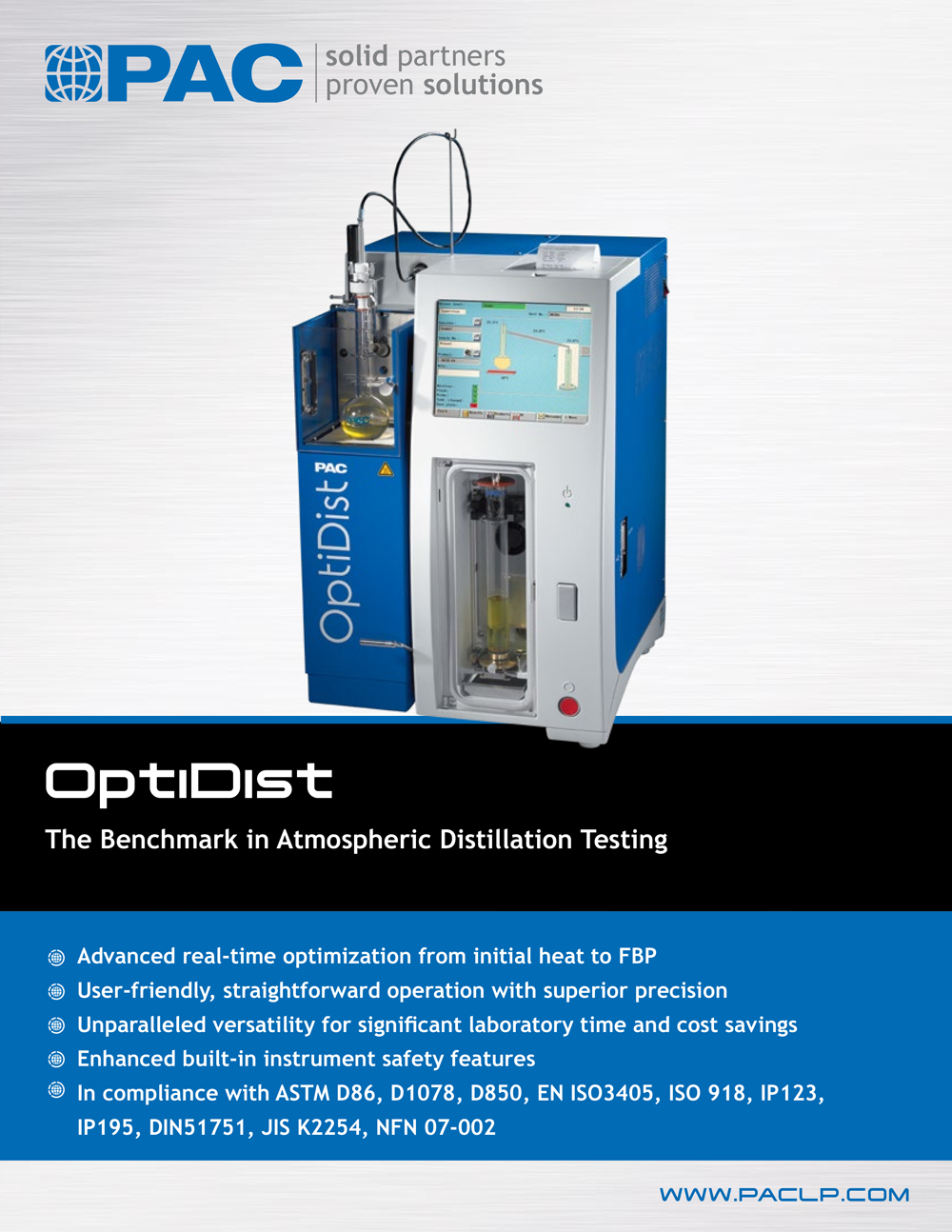 Get the Brochure
Learn more about the state-of-the-art solution for performing atmospheric distillation.